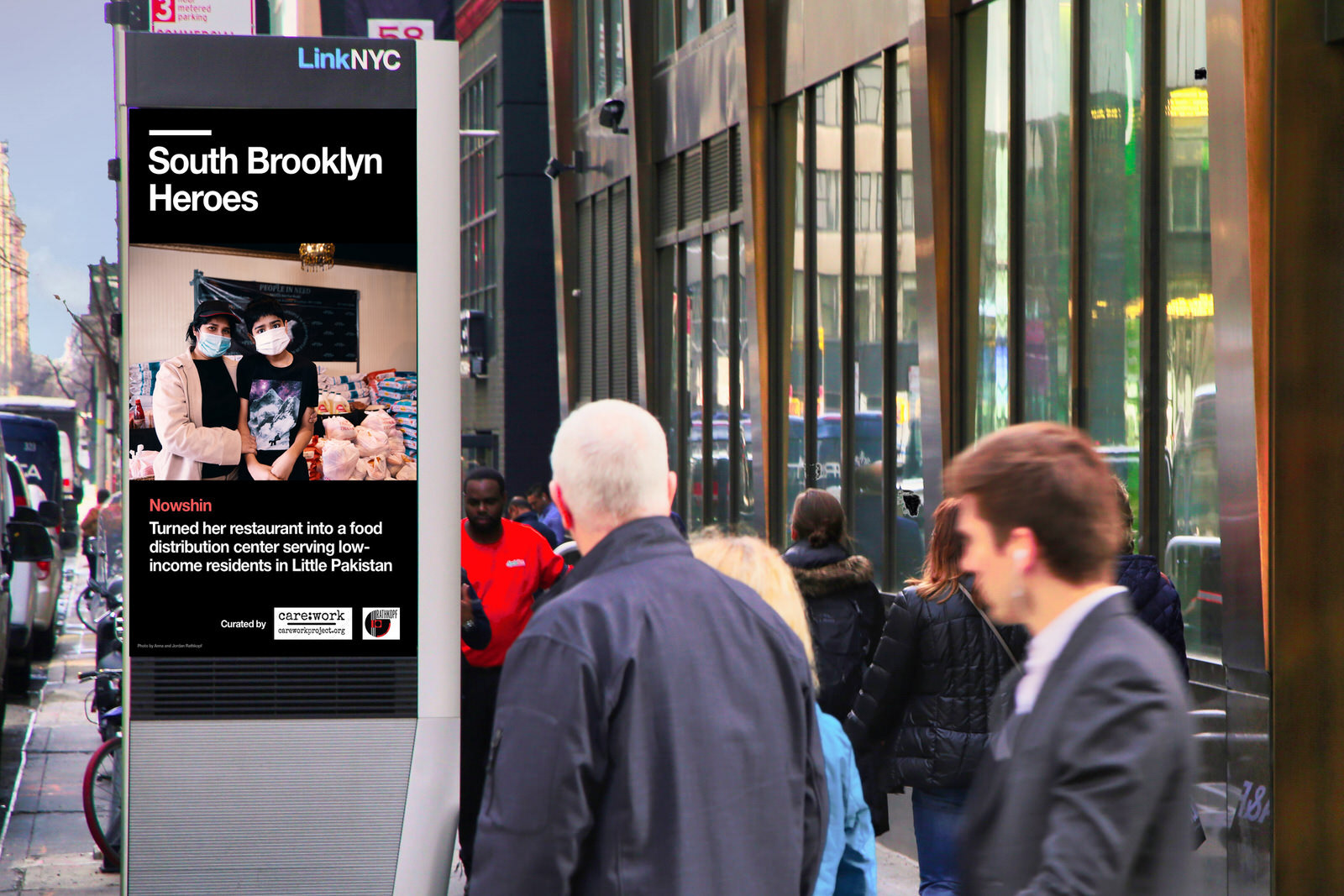 a photo exhibition displayed on 
LinkNYC
Portraits of Volunteers and Essential Workers 
by Anna and Jordan Rathkopf
The urgency and intensity of the Covid-19 pandemic has underscored the essential role of caregivers in the health, family life, community, and economy of the United States.  In every city and neighborhood large and small, caregivers may be volunteers, relatives, or professionals and are often people of color and frequently immigrants from the global south.  

For over a year, photographers
Anna and Jordan Rathkopf
have been photographing care workers in their Brooklyn community.  They have captured the diversity and commitment of these local heroes, many of whom are volunteering their time outside of their normal work lives. 
LinkNYC
is sharing these photographs on selected digital billboards throughout the City as an inspiration for New Yorkers emerging from a harrowing year.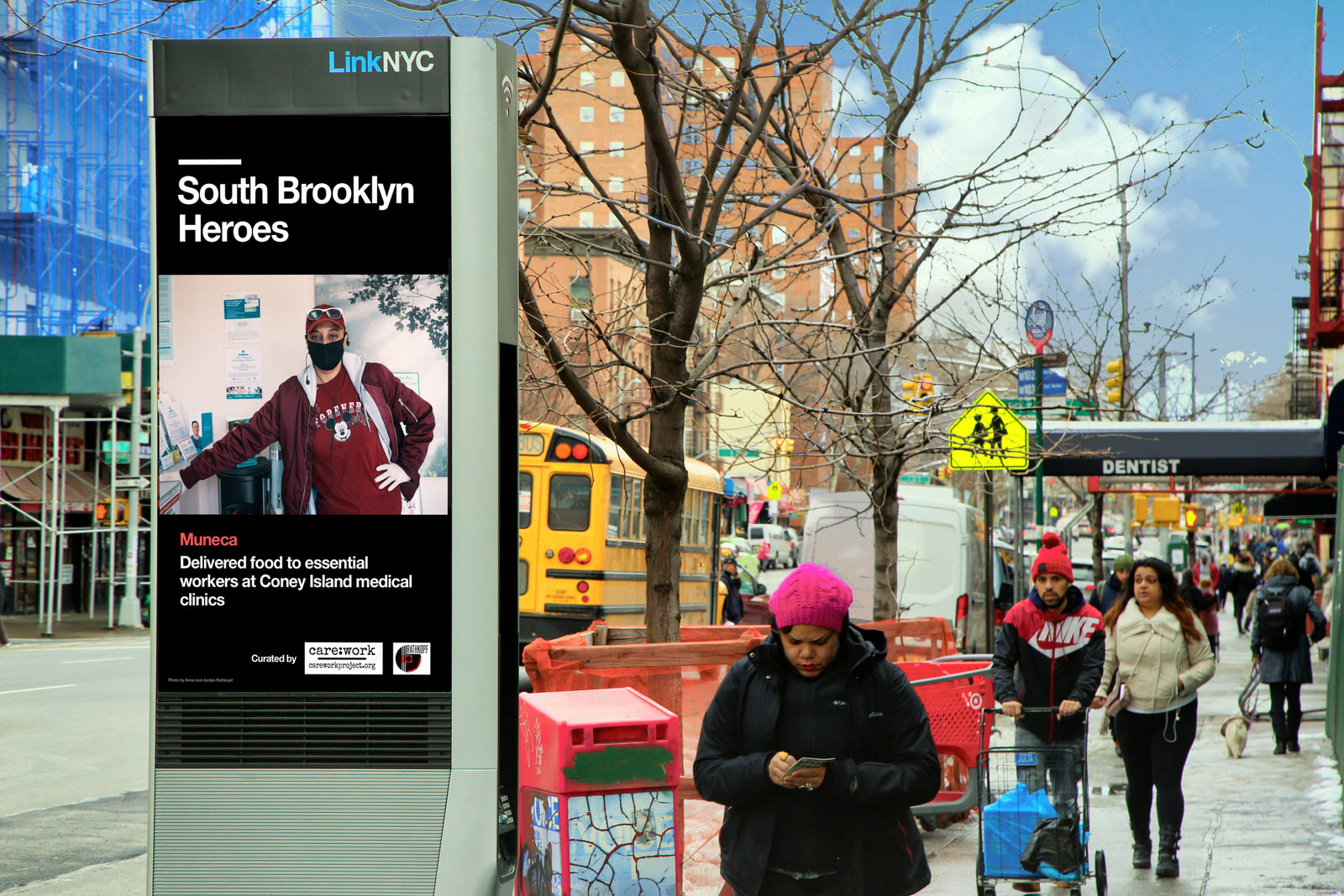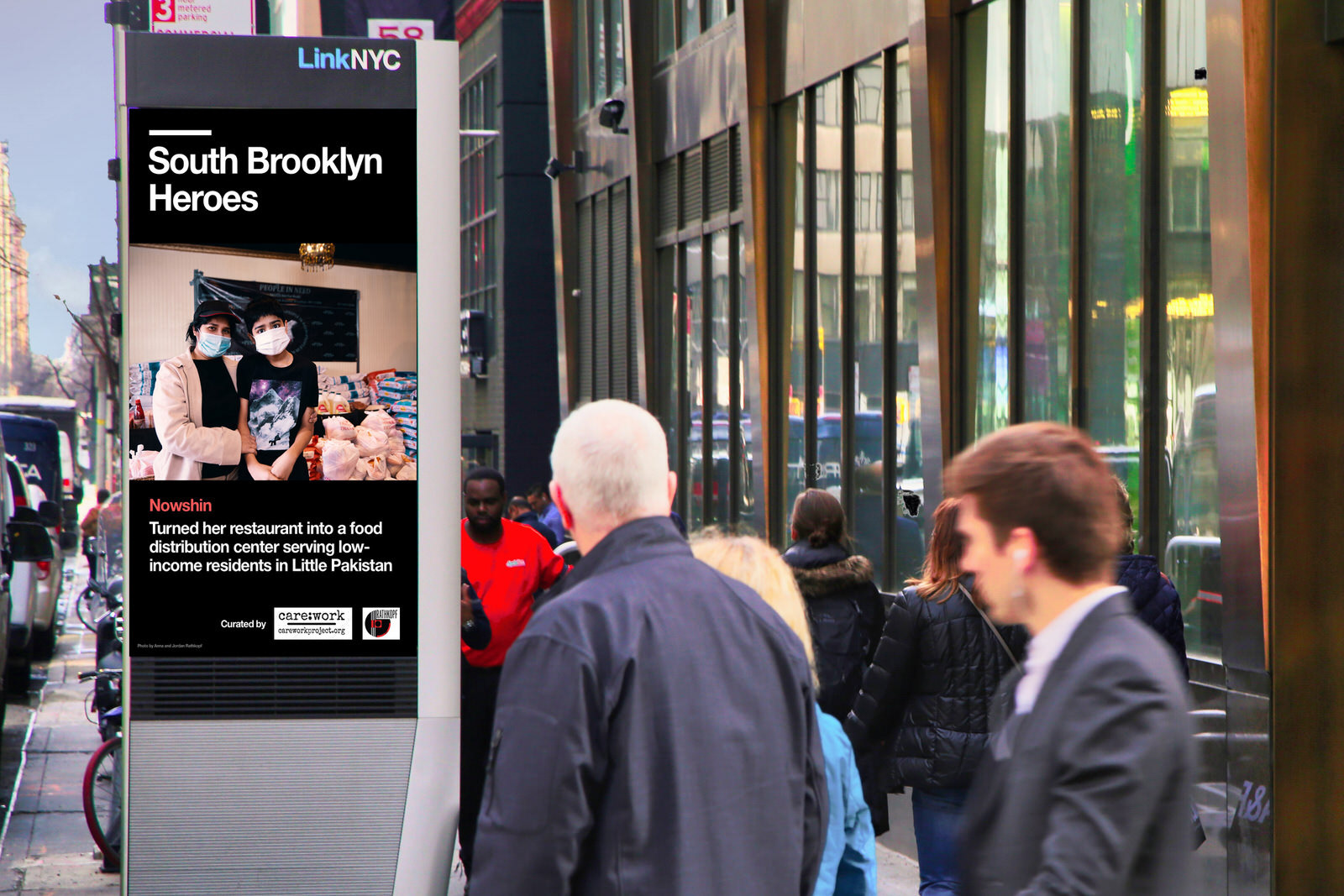 care:work
was founded and is directed by
Eric Siegel
, a longtime museum leader with a long standing interest in social activism.  He is the recipient of multiple awards for exhibitions and programs in the New York City area, and now lives and works in Oakland, CA.  

The
LinkNYC
exhibition is produced by 
Deborah Schwartz, 
the East Coast Producer for
care:work
.  Deborah is a recognized leader in the field of museum education, and President of Brooklyn Historical Society from 2006 to 2020. She is now a consultant, assisting cultural institutions with community partnerships, governance, and program planning. 
care:work
was developed in conversation with the National Domestic Workers Alliance who has inspired the team with their effective activism and message of love and care. 
care:work
has grown to include people working with a multitude of organizations, large and small, who have made community building the central tenet of their work. 
You can learn more about the organizations represented in this campaign here.
ARTISTS 
Anna and Jordan Rathkopf
create visual narratives focused on issues of identity, health, and what it means to be part of a community.
 During the height of Covid-19 in NYC in April 2020, The Rathkopfs combed the hardest-hit neighborhoods of Brooklyn to document the diverse network of people devoting their time, energy, and hearts to the thousands of people who were in desperate need of their help.

Over the past year, they have photographed and recorded the voices of over one- hundred and fifty volunteers working with 18 different organizations in neighborhoods throughout Brooklyn. 
They note: "We've witnessed so many incredible people step up for their community. They haven't asked for recognition, fame, or payment.  It has been a selfless act of solidarity embodied by people from all kinds of backgrounds."  Anna added: "As an immigrant woman, I have been so inspired by the many women organizers I have met throughout this project, many of whom are immigrants or first-generation."